The Ministry of Economy of the Republic of Poland estimates that renewable energy auctions will take place only in the period between year 2016 and 2018. Investors can expect the sales of energy at 320-470 PLN per MWh. But the auctions may not be organized for everyone – according to information obtained by the Energy Legislation Observer of the WysokieNapiecie.pl website.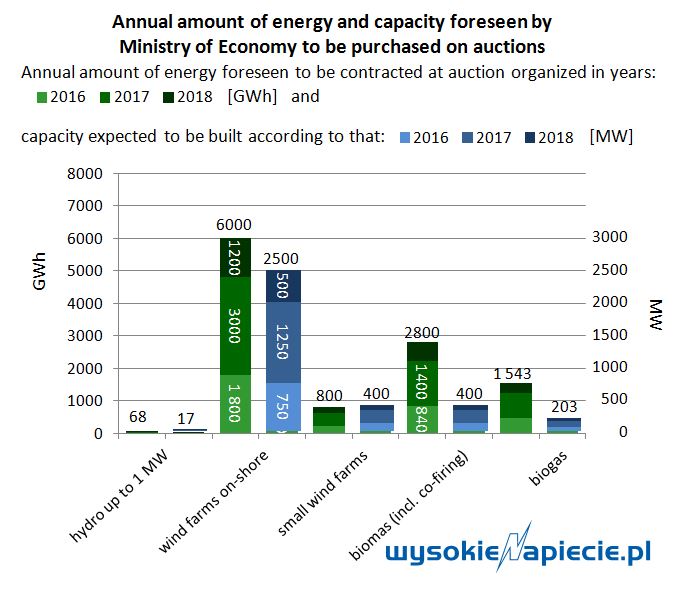 According to officials of the Polish Ministry of Economy, in order to achieve the objectives of the RES share for 2020, it is enough to conduct auctions in years 2016-2018. The volumes of "green" energy, predicted for next year contracts, will be quite impressive.
The Government is planning to immediately contract the delivery of 50.5 TWh for the next 15 years. This means, that the annual production would be at the level of 3.4 TWh. For the unstable sources, it will be set up for approximately 2 TWh, which means about 1000 MW in wind farms.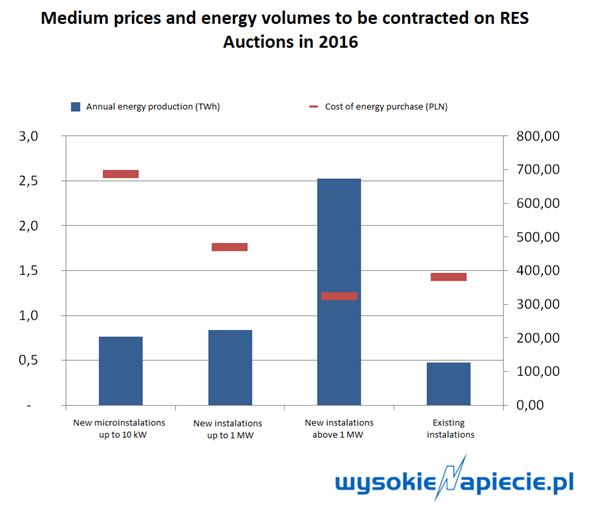 Installations up to 1 MW, could count on a quarter of the cake – almost 841 GWh per year. With an average working time of 4,000 thousand hours per year, it means a 210 MW in biogas, small hydro plants, and small biomass power plants. The Ministry does not assume that there will be any photovoltaic farms created in the auction system. The ministry wants them to be created only as distributed energy resources (DER) supported by grants. For projects up to 1 MW of power, the support is to be set up, with the amount of 470.01 PLN / MWh, and this is not enough for the vast majority of photovoltaic projects. However, there is a chance to win, if there were no competition.

New projects, with a capacity of more than 1 MW, may expect the lowest support. The Government, wants to spend on them an average of 324.37 not PLN / MWh. The Government did not submit a reference price, and price tiers are resulting from the relations of budget available for auction in 2016, with the volume of energy that the government plans to contract next year.